Newcomer of the year First team attack Second team attack First team attack Second team attack Second team defense Second team defense Second team attack | Sports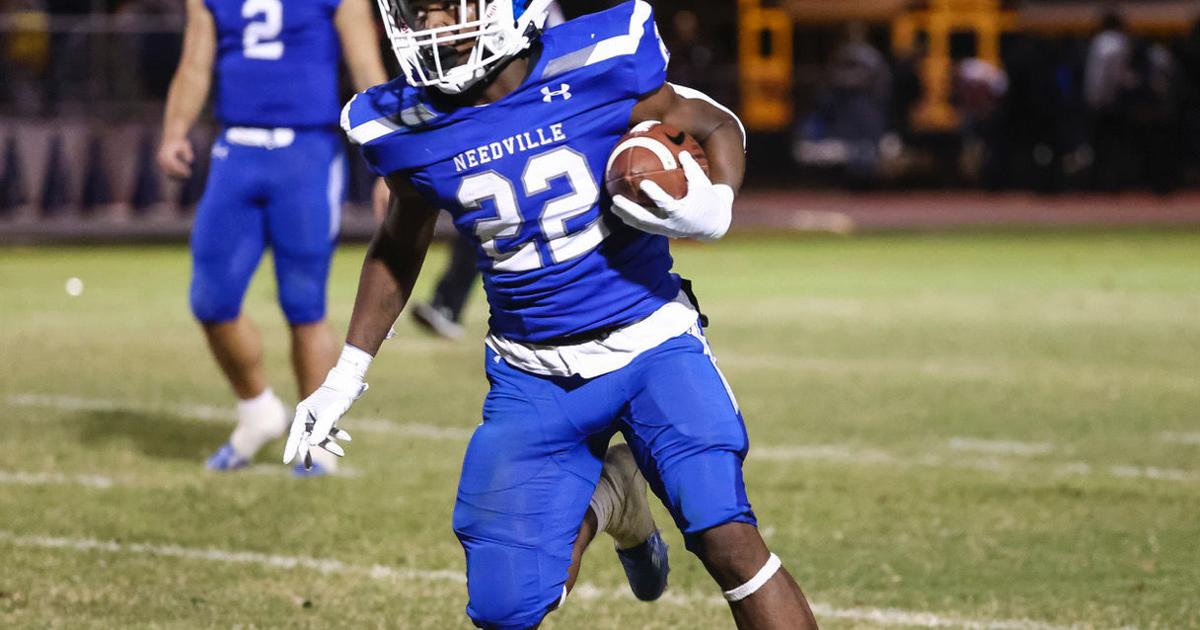 The Needville High School football team were extremely young during the 2021 season resulting in both growing pains and glowing spots. This fact was reflected in the team of all districts in District 12-4A, Division I.
First-year running back Da'Shawn Burton was named Newcomer of the Year. Burton had 1,123 rushing yards and 16 touchdowns on 16 carries.
Senior quarterback Bryce Nirider and senior wide receiver Blake Maresh have been named to the first team offensive.
Nirider has totaled 2,103 yards this season, including 1,210 passing yards and 21 total TDs. Maresh had 505 yards and two touchdowns on 32 receptions.
Second-year wide receiver Alex Coffin and senior offensive lineman Eddie Jones have been named to the second team.
Coffin had 12 receptions for 287 yards and three touchdowns and added 200 yards on the punt return.
Second-year linebacker Camden Babcock, second-year linebacker Hunter Brewster and second-year second Alex Coffin have been named to the second-team defense.
Babcock had 34 tackles, 10 solo tackles, four sacks, four defenses and two fumbles. Brewster had 96 tackles, 22 solo tackles, one sack, two defenses and two fumbles.
Coffin had 29 tackles, including eight solo tackles, two interceptions, two passes defended, two fumbles recovered and one forced fumble.
Second-year kicker Camden Babcock has been named to the second-team special teams. Babcock averaged 32.8 yards per punt, and he had a 43-yard long and two punters inside the 20-yard line.
Needville finished 3-7 overall and 1-4 in the District game.
Stafford was second in the 12-4A DI overall standings with a 4-1 record and a 7-5 overall record. Senior defensive end Isaiah Bogerty was named co-defensive player of the year along with El Campo senior linebacker Jacob Lopez.
Bogerty had 107 tackles, 11 sacks, four interceptions and a forced fumble.
Junior quarterback Brayden Batiste, running back Jamaal Wiley, senior receiver Jordan Barrett, senior tight end Quardale Patt, senior offensive lineman Nya Mack and senior offensive lineman Braylon Rideau have been named on offense of the first team.
Batiste totaled 1,559 offensive yards, including 1,079 passing yards and 23 total TDs. Wiley totaled 1,205 yards and 17 touchdowns.
Barrett had 24 catches for 338 yards and four touchdowns.
Junior defensive end Andrew Huff, junior linebacker Braylen Collins, junior linebacker Dylland McClendon, junior linebacker Juluis Nealey, senior linebacker Nicolas Rideau, senior defensive tackle Quardale Patt, senior defensive tackle Zephaniah Uta, cornerback senior Jermiah Sanders, junior cornerback Chase Williams and junior safety Ashton Miller have been named to the first team defense.
Huff had 67 tackles, three sacks and three forced fumbles. Collins had 46 tackles, three interceptions and one sack.
McClendon made 38 tackles, two resulting in fumbles and an interception. Nealey had 62 tackles, 39 solo tackles and one sack.
Rideau had 39 tackles, 28 solo tackles, two sacks and two forced fumbles. Pat had 44 tackles, 36 tackles, three sacks and one interception.
Uta had 36 tackles, 20 solo tackles and two sacks. Sanders had 35 tackles, 25 solo tackles and five deflected passes. Williams had 35 tackles, 30 solo tackles and one interception.
Miller had 65 tackles, 52 solo tackles and two interceptions.
Running back Terrance Woods, senior wide receiver Terrance Lewis and junior offensive lineman John Longoria have been named as the second team offensive.
Woods totaled 522 yards, including 415 rushing and seven touchdowns. Lewis caught nine passes for 152 yards and three touchdowns.
Second safety Chris Holland has been appointed to defend the second team.
Holland had 11 tackles and two fumbles recovered.
Junior kicker Brayden Batiste was named the first team special team and averaged 31 yards per punt. He kicked for 1,055 yards, including seven inside the 20-yard line.
El Campo won four of the top spots on the District 12-4A DI overall team after going 11-2 overall and 5-0 in the district to win the district title.
Junior running back Rueben Owens has been named Districtwide MVP.
Owens finished the year with 2,989 yards and 46 rushing touchdowns.
Senior linebacker Jacob Lopez was named co-defensive player of the year along with Stafford senior defensive end Isaiah Bogerty.
Lopez had 87 tackles, two sacks and four fumble recoveries.
Senior tackle Kerry North was named lineman of the year. Senior defensive back / running back De'Koreyus Ward and junior linebacker Hal Erwin were named co-utility player of the year.
Ward totaled 878 offensive yards, including 400 rushing yards, and he also had an interception on defense.