Schenevus defeats Franklin 7-4 in wild TVL game | High school sports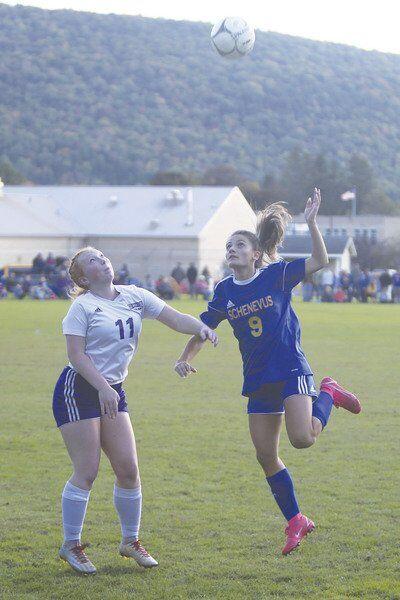 In a clash between two of the region's top women's football teams, Schenevus outlasted Franklin 7-4 in the most successful Tri-Valley League game on Friday.
Lily Competiello was the catalyst for the Dragons' offense with four goals in the win. Angie Competiello scored one goal and also added three assists. Elsewhere, Taylor Knapp and Shawna Whiteman both scored a goal and an assist, and Sam Barrett and Sam Osborne both registered assists.
Franklin's four goals are courtesy of Shannon Kingsbury. Patricia Rodriguez-Matias provided an assist.
Both goalies were busy throughout the game. Kelsey Burton of Schenevus made 13 saves while Maddie Hyzer of Franklin finished with 23.
Schenevus (11-0 overall, 8-0 in the league) will host Charlotte Valley on Saturday for her Homecoming and Senior Reconnaissance match.
Cooperstown 3, Westmoreland 1
The Cooperstown girls beat Westmoreland 3-1 in Friday's game.
Ireland Gable scored two goals for the Hawkeyes and Meah Boyles scored one. Gabby Woeppel and Tori France each had an assist.
Nya Marsh scored for the Bulldogs.
In net, Sam Vezza made two saves for Cooperstown while Emily Gubbins made eight for Westmoreland.
The Hawkeyes will be off duty until Thursday when they visit Sauquoit Valley.
Edmeston 4, Worcester 1
Four different Edmeston players found the back of the net in the Panthers' 4-1 win over the Wolverines on Friday.
Haylie Lund, Molly Rifanburg, Jennadee Cotton and Avery Bolton all scored one goal in the win while Arissa Bolton provided two assists.
Iriyah Haley scored Worcester's lone goal with an assist from Makenna Ventuleth.
Worcester goalkeeper Maci Milavec made 15 saves in the loss.
Edmeston honored his squad of five seniors ahead of the game: Abigail Bateman, Marissa Galley, Lena Greene, Emma Dabreau and Quinn Schoonover
Laurens 5, Richfield Springs 3
The Leopards took a 3-0 halftime lead and ultimately defeated the Indians 5-3 in Friday's Tri-Valley League game.
Jaidon Brodie and Gabby Andrades both scored two goals and one assist for Laurens while Eowyn Chickerell scored one goal and one assist.
Riley Francis, Molly Bobnick and Anna Hawkes scored for Richfield Springs, with Camryn Marshall providing an assist.
Laurens goalkeeper Jaidyn Simon recorded two saves and Emma White finished with 12 for Richfield.
Laurens (5-5 overall, 4-3 in the league) will host Milford on Saturday for his home game.
Milford 0, Gilbertsville-Mont Upton 0
The Wildcats and Raiders played a scoreless draw in Friday's Tri-Valley League game.
GMU's Mackenzie Barnes was solid in goal with 23 saves, keeping the Wildcats out of the way. Leeanna West also got a shutout making two saves for Milford.
The Wildcats outscored the Raiders 29-3 in the game.
Delhi 3, Sidney 0 (Thursday)
A game that seemed to end in a scoreless tie turned into a 3-0 win for the Bulldogs on Thursday.
After no regulation score and the first overtime, Delhi scored three goals in the second OT. Lauren Packard, Abbie Leahy and Natalie Vredenburgh all scored successively for the Bulldogs.
Delhi goalkeeper Syl Liddle made five saves to earn the shutout. Sidney's Courtney Mondore finished with 11 saves.
Schenevus 7, Franklin 4
Diagram: Lily Competiello 4-0, Angie Competiello 1-3, Taylor Knapp 1-1, Shawna Whiteman 1-1, Sam Barrett 0-1, Sam Osborne 0-1
Franklin: Shannon Kingsbury 4-0, Patricia Rodriguez-Matias 0-1
Corner kicks: S 34-5, F 17-4
Goalkeepers: Kelsey Burton (S) 13, Maddie Hyzer (F) 23
Cooperstown 3, Westmoreland 1
Cooperstown: Ireland Gable 2-0; Meah Boyles 1-0; Gabby Woeppel 0-1; Tori France 0-1
Westmoreland: Nya Marsh 1-0
Kicks-Corner Kicks: Cooperstown 16-2; Westmoreland 4-2
Goalkeepers: Sam Vezza (C) 2; Emily Gubbins (F) 8
Edmeston 4, Worcester 1
Edmeston: Haylie Lund 1-0, Molly Rifanburg 1-0, Jennadee Cotten 1-0, Avery Bolton 1-0, Arissa Bolton 0-2
Worcester: Iriyah Haley 1-0, Makenna Ventuleth 0-1
Corner kicks: not provided
Goalkeepers: Maci Milavec (F) 15
Laurens 5, Richfield Springs 3
Laurens: Jaidon Brodie 2-1, Gabby Andrades 2-1, Eowyn Chickerell 1-1
RS: Riley Francis 1-0, Molly Bobnick 1-0, Anna Hawkes 1-0, Camryn Marshall 0-1
Corner kicks: L 19-7, RS 6-3
Goalkeepers: Jaidyn Simon (L) 2, Emma White (RS) 12
Milford 0, Gilbertsville-Mont Upton 0
Milford: none
ERG: none
Kicks-Corner Kicks: Milford 29-15; GMU 3-1
Goalkeepers: Leanna West (GMU) 2; Mackenzie Barnes (M) 23
Delhi 3, Sidney 0 (Thursday)
Delhi: Lauren Packard 1-1, Abbie Leahy 1-1, Natalie Vredenburgh 1-0
Sidney: none
Corner kicks: D 19-7, S 8-5
Goalkeepers: Syl Liddle (R) 5, Courtney Mondore (D) 11
TO SWIM
Cooperstown 61, Holland Patent 30 (Thursday)
The Cooperstown women's swim team defeated Holland Patent 61-30 in a meet Thursday.
A large number of Hawkeyes swimmers have won individual firsts. Quinn Lytel won the 200 individual IM, Rylie Austin won the 50 freestyle, Ariadne Hodgson won the 100 butterfly, Anne Walker won the 100 freestyle, Emily Kane won the 500 freestyle and Tara Phillips won the 100 breaststroke.
Cooperstown also won each of the 200 IM relays, 200 free relays and 400 free relays.
Cooperstown 61, Holland Patent 30 (Thursday)
Relay 200 QN: 1. Bischof, Kane, Hodgson, Austin, 2: 17.15
200 freestyle: 3. Anne Walker, 2: 45.63
200 Individual IM: 1. Quinn Lytel, 3: 00.42
50 freestyle: 1. Rylie Austin, 30.97
100 butterfly: 1. Ariadne Hodgson, 1: 20.72
100 free: 1. Anne Walker, 1: 12.03
500 free: 1. Emily Kane, 6: 04.15
Relay 200 free: 1. Bischof, Austin, Kane, Hodgson, 2: 05.51
100 back: 2. Arya Patel, 1: 28,78
100 breaststroke: 1. Tara Phillips, 1: 30.37
Relay 400 free: 1. Hodgson, Kane, Bischof, Phillips, 4: 55.89