supplier of Ocado unveils hybrid biomethane and electric tractor | New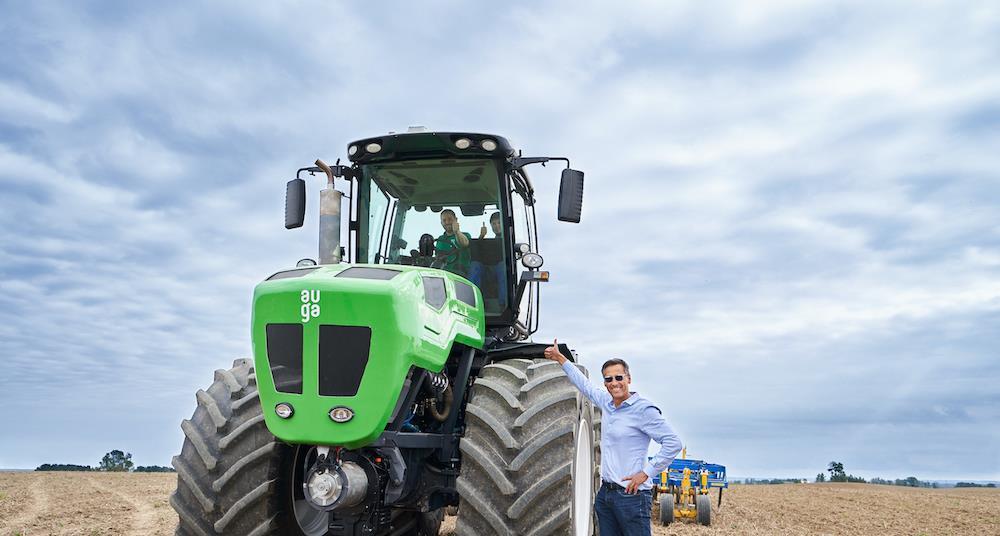 Lithuanian organic food company Auga – which supplies Ocado and Holland & Barrett – has developed what it says is the world's first hybrid biomethane and electric tractor suitable for commercial use.
The Auga M1 runs on methane collected from animal waste and stored in gas cylinders. When the tractor is running, an internal combustion engine powered by biomethane generates energy and transmits it directly to the electric motors that turn the wheels. When operating under normal conditions that do not require high power, the tractor stores the excess energy generated in the batteries. At times, when less power is needed, the tractor can be driven using only the energy stored in the batteries.
The company's patented technology allows the tractor to accommodate larger cylinders of biomethane, which means the tractors can run longer.
"Currently, tractors powered by biomethane can only run for two to four hours because the gas cylinders do not physically fit on the tractor. However, farmers need agricultural machinery that can run 12 hours or more, "said Kęstutis Juščius, Managing Director of the Auga Group.
"Our team of engineers have found solutions to the refueling problem and ensure uninterrupted operation of the tractor throughout the working day," he added.
Another problem faced by the wider deployment of hybrid tractors, solved by engineers at Auga, was "the underdeveloped infrastructure of the biomethane refueling station". The M1 uses "quick and convenient gas cartridge replacement," the company said.
"We are ready to provide consumers around the world with food that is free of cost to nature. By eating such foods, people themselves will positively impact climate change on a daily basis. And we are sure that more and more people want to live like this, "says Juščius.
The company told The Grocer that the M1 is currently only used on the Auga fields, but the company's goal is to share it with other farmers and businesses once it expands. , "the UK being a key target market".
"Three years ago, when we first calculated our emissions, we found that up to 30% of them came from the use of fossil fuels on farms. There were simply no solutions to change it. That is why we have taken the initiative to develop technologies that will allow us to set a new standard for sustainable agriculture and significantly reduce pollution along the food value chain, "Juščius said.