Yum! Brands opens up opportunities for its people and communities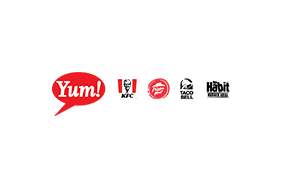 Posted 17 minutes ago
Proposed by Yum! Brands
From help desks to restaurants, Yum! Brands has been promoting our human-centric culture around the world for 25 years. In our latest Global Citizenship and Sustainability Report, you'll find out how we're addressing issues that matter to our business, including equity, inclusion and belonging, talent attraction, engagement and retention, as well as human rights and labor practices.
Although we are known for our food, everything we do is made possible by our people. We build on our strengths and meet new challenges by investing in strategic initiatives that create opportunity and create an inclusive culture for all talent to thrive at work and at home. This means investing in globally scalable development programs that franchisees can leverage to benefit system employees, with a focus on Restaurant General Managers (RGMs), so that we can unlock the growth of our 1,500 franchisees and make a difference in the world.
Yum! The social purpose of the brands is to create opportunities for our restaurant team members, our franchisees and our communities. We do this by providing employment and professional development opportunities that enable people to build rewarding careers; investing in tools and resources to support our franchisees, especially those from underrepresented backgrounds; and by making strategic investments in the thousands of communities in which we operate around the world.
Highlights from our 2021 Recipe for Good report
Approved more than $50 million in funding for nearly 30 social impact programs in nine countries through our Unlocking Opportunity Initiative (UOI) to address inequality inside and outside of Yum! through equity and inclusion, education and entrepreneurship.
We launched Coach Academy, a global virtual program for people managers, and continued to expand the availability of Heartstyles, a leadership development program, in restaurants.
The New Legacy Summit provided a forum for high-potential Black and Hispanic employees to network and interact with Yum! leadership.
We continue to learn about the complexities of our supply chain and its intersections with human rights and begin to develop plans for the gradual integration of our global markets into the Sedex supply chain platform.
Learn more here
Yum! Brands
Yum! Brands
Yum! Brands, Inc., based in Louisville, Kentucky, has more than 54,000 restaurants in more than 155 countries and territories, operating the company's brands – KFC, Pizza Hut and Taco Bell – world leaders in the chicken, pizza and of mexican style food. The company's family of brands also includes The Habit Burger Grill, a fast-casual restaurant concept specializing in burgers, sandwiches and more. Yum! Brands was named to the 2021 Dow Jones Sustainability Index in North America and was ranked on Newsweek's list of America's Most Responsible Companies in 2021. In 2022, Yum! Brands was named one of 3BL Media's Top 100 Corporate Citizens.
More Yum! Brands